Since buying the Peloton bike a little over 4 months ago, I've bought more activewear than I have in a while! It'd been about 4 years since I was in a regular workout routine, which probably deserves an entire blog post of its own to explain. Anyway, as a plus size 28 or so, I find activewear accessibility and fit very frustrating. I wrote about this before with Nike – this is one of my favorite posts of late, and in this post with Lucy Activewear in 2016 (the brand sadly doesn't even exist anymore.)
Among my top complaints: leggings that roll down, shirts that aren't the right lengths, lack of prints and colors, low quality textiles, and lack of extended sizes.
Disclosure: This post may contain affiliate links. This means that I may earn a small commission on anything you may buy through that link. Thank you for helping support this blog!
One of the many things I love about the Peloton experience is getting to wear whatever the heck I want to workout, without fear of judgement from other gym-goers. Since we're not really dressing up to go anywhere these days, it's fun to experiment with new styles on the bike. That being said, function definitely needs to be considered when riding the Peloton bike.
Different people have different preferences, so wear whatever feels best to you when riding. Some people prefer to wear padded bike shorts for some extra cushion against the seat. Some prefer to go commando and not wear anything between their bum and their bottoms as they find it reduces chaffing. As Cody Rigsby would say: "you do you, boo."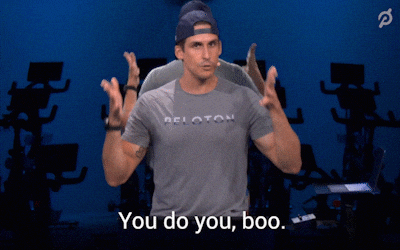 Plus Size Padded Bike Shorts
About padded bike shorts: Some people swear by them, and some don't love them. I personally used padded bike shorts for a short time period after getting my bike, and then I preferred to use non-padded bottoms once my seat pain started to resolve. Steve loves his and still wears them.
Aero Tech Designs: If you need plus size or big and tall cycling shorts, this is the place to look. They have the largest size range that I've been able to find, with women's plus up to a 4X/28. I bought some in a 4X and probably could have worn the 3X. They are well made. Steve also has a pair and really likes them.
Terry: Several years ago when I tried my first spin class, I did so in a very cute padded Terry skort. It was great quality and fit well. They go to size 3X, 22/24. I've not tried them recently as I am not in their size range currently.
Machines for Freedom: I've not tried this brand as it appears the largest size, a XXXL, only goes to a 54″ hip – this rules me out. But, their reviews are great if you are smaller.
Plus Size Sports Bra for Cycling
You'll never get me to answer a question about sports bras with anything other than ENELL, The sports bras that changed my life. Now, which one you get? That depends on how much support you want. I wear all 3 of their styles on the Peloton, honestly usually just based on what's clean at the time. You'll notice throughout the post that I wear a lot of longline bra tops, but I always have an ENELL bra under them.
ENELL SPORT: This is their maximum impact bra. I just got off a ride with Ally Love tonight wearing a SPORT and I was able to hit some higher cadence numbers than I usually do. It might have been the music, or it might have been because I didn't flop around at higher speeds. In any case, it works wonders, though you don't necessarily need this level of support on a ride.
ENELL RACER: I probably wear this one most often because it works well with some of my favorite workout tops. It's not quite as supportive as the SPORT, but it does a good job of holding everything in.
ENELL LITE: I wear these on low impact and recovery rides most often, though I've also worn them during higher intensity rides as well. They're for low impact or everyday wear, so if I know I'm riding later in the day, I'll put this on with my outfits and then just keep it on when I switch to workout clothes later.
If you want to try an ENELL bra, you can use code EMILYSHIP at checkout for free shipping.
Plus Size Activewear Options
In the past couple of years, more brands have come out with plus size options. I'm not going to touch on all of them, but I wanted to share the things I'm wearing on heavy repeat since I got the Peloton bike. They're cute, but also have my favorite elements like ultra high waists, a little compression, but not so much that you can't breathe, and wash well.
Lane Bryant LIVI Active: Now with even more sizes
Listen: I've been a LIVI Active fan for a long time (I legit still wear LIVI leggings from when they first launched the collection a few years ago), but now I'm an even bigger fan because Lane Bryant has extended their sizing and is offering sizes 10-40!!! This is major news, as there are so, so, so few active options in a size 28+. Some of my favorite leggings are the LIVI Active 7/8 Power Legging with Wicking (seen below – this print no longer available, but other very pretty ones just launched). They have a wide, 4″ waist that is great if you really want to make sure the waist stays where you put it. These are performance fabrics, which have a medium to high level of compression, without being too restrictive.
I'm really excited to see what else Lane Bryant comes out with in these extended sizes. Here are some favorite finds of the moment:
Universal Standard Knockout Bike Shorts: I never thought I'd love bike shorts to work out in because in the past I've had issues with thigh digging or the legs rolling up my thighs. These are so, so good. Buttery soft, very stretchy but stay put on the waist. They can be worn high on the waist as I prefer, or they can be worn lower if that's not your bag. They aren't very compressive, but are smooth also are just the right tightness so no bunching or rubbing anywhere. For reference, I wear the size XL, which is a 26/28.
If you don't love shorts, you can also go for the Universal Standard Danica Mesh Legging. They fit just like the bike shorts and I'm in love with the fabric. I wear them at least once a week.
Universal Standard Foundation tops are always a winner, whether you're working out, using them as a base layer, or wearing them as a basic. I can't get enough of them. The tank is a favorite of mine for working out, but they have short and long sleeves as well. These tops fit pretty close to the body but are very, very stretchy, so if you don't want anything too clingy, you may want to size up one. I don't mind the more snug fit.
Old Navy Active
Old Navy has long been one of my go-to's for plus size workout options as they have sizes up to a 4X (28/30), have a good variety of styles, and are budget friendly. They also have a pretty easy returns process, which I appreciate since I tend to overbuy and keep only the best items.
Whether you want full coverage in a top (above) or a peek-a-boo belly (below), they have a very wide variety of options. I've always been very self conscious of my stomach, and it feels really freeing to wear a cute set with my tummy out. That may sound weird to you, but wearing cute sets others that are smaller wear is helping me re-frame how I see my body.
I also must call out these particular leggings, because I love them so much. The Extra High-Waisted Powersoft Light Compression leggings are some of my favorites because of how high the waist goes (remember, I prefer waists as high as possible, but this can also be a fold-down waist if you don't want them under your boobs!) and for how soft the fabric is. It feels like butter, and they are so incredibly comfortable. This fabric doesn't have much compression, so if you prefer slightly thicker fabric, a slightly lower (but still high rise) waist, and a little more compression, try their Elevate powersoft leggings. A note on size: Since the light compression leggings have thinner, stretchier fabric, I prefer the 3X fit. With the thicker Elevate leggings, I prefer the 4X fit.
Other plus activewear sources:
Being on the cusp on plus and extended plus means I can't quite bring myself to try some places that only go to a 3X/24. That being said, here's a list of some other plus favorites that I've not tried, but others seem to love:
Athleta: I'm hopeful that Athleta will continue to become more inclusive in the future as they just expanded a ton of items up to 3X for the first time, and have items in-store, along with plus mannequins. I am going to order some to see how their sizing is, but it is around a 24/26 at largest.
Fabletics: I can't open Instagram without seeing someone promoting Fabletics, and I always think the sets are so cute. I've not tried any of their items before since their largest is a 4X, which for them is a 22/24.
Target: I have a few older items from Target's plus activewear selection (mainly capris), but I don't find myself reaching for them often as the fabric of the ones I have feels too slippery on the bike, if that makes any sense? They're also mid-rise, when I prefer super high rise. Still, they continue to expand their selection and offer up to a 4X, which is around a 28. I need to grab a couple of their new items to see how they perform.
Superfit Hero: I've not had the best luck with Superfit Hero in the past as the sizing seemed really off for me, but they recently revamped and extended sizing to a 7X, so I ordered a pair of bike shorts. Per their size chart, I should be a 4X, but I ordered in a 5X after my last experience. They are very comfortable and supportive. I'm very impressed with them, and may try the 4X next as the legs seemed to roll up a little bit when cycling. Not to any point of discomfort, just some slippage. I am going to try a pair of their revamped capris, also. I found myself reaching for these first this week out of the laundry, which is a great sign. I'm wearing them in the photo below with the Peloton logo shirt.
Peloton Apparel: I griped a little in my Peloton review post that I wish the brand were more size inclusive, both with the body diversity of their instructors, and with their apparel options. Some of the apparel goes to a 3X, and it sells out very quickly. The last apparel drop, I used some of my store credit to buy a tank described as "drapey and elongated" hoping it would be long enough, and loose enough for me. It came, and was very long (I have it tied above, but it came to low hip) and definitely large enough. The material was very thin, but comfortable. I'll try more Peloton apparel in the future.
Christine D'Ercole: She's one of my favorite Peloton instructors, and she has an online shop that has extended sizes. As I was writing this post, I just got a tank top delivered in a 4X and it fits great. One of her sayings is: "You're bigger than a smaller pair of pants," which is an important mantra to me on my weight neutrality journey.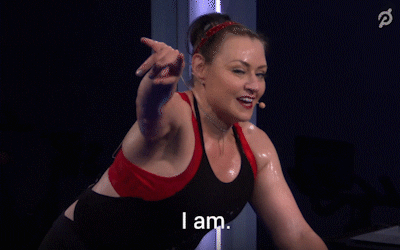 Girlfriend Collective: One of my favorite workout tops right now is from Girlfriend (the maroon one at the top of the post). It's such a nice, soft but sturdy material. I also ordered bike shorts and leggings from them, but unfortunately their largest size (6x) didn't fit. If you're up to a size 24 or 26, you can probably safely order from Girlfriend, but triple check the size chart. On the bra size chart, it shows I should fit in the 4X, but I got the 6X in the top and it fits well. Thankfully, they have a very easy returns process. I love that this is a sustainable brand, and has a lot of diversity on their site. I hope their sizing either expands or gets more consistent in the future.
Wide Shoes for Peloton
One final note, and that's about shoes. As I mentioned in my last post, the Peloton shoes were too narrow for my wide feet. If this is also the case for you, you can get other cycling shoes as long as they are Look Delta compatible (the cleat type). If you get a cycling shoe that has SPD clips (these are most common), you'll need to switch out your Peloton pedals. The best way to find shoes that fit is to visit a speciality cycling shop in your town and have them do a fitting. Given the pandemic, I ended up ordering several pairs from Zappos to try on at home. The winner for me was the men's Shimano RC-3 wide fit shoes with Look Delta compatible cleats from Amazon. They are fairly soft for a cycling shoe. I usually wear a womens 11W and ordered these a couple sizes up in a 44E.

I hope this is helpful! Curious about a brand I didn't mention, or have another suggestion? Let me know in the comments!